Learning Lab experience: educational and comfortable
April 13, 2018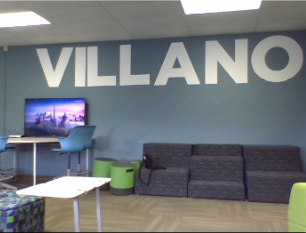 Alyssa Gabrielle
A school with no library? That's the new look at Patrick M. Villano School. A huge work space called the Learning Lab replaced the library this year. The Learning Lab includes many comfortable chairs for students to relax and learn. Most chairs have wheels or some sort of moving object on the bottom, so the chair rolls. These types of movement chairs allow students to wobble or rock. That in turn increases oxygen to the brain.
"It looks like a kid's work office, but is way cooler." said Rylee Smith, a fifth grade student. 
"I like to use this Learning Lab as a really good environment to study in," Diana Tamayo, another fifth grader, said.
The Learning Lab is divided into two parts. The side of the room with the movement chairs is open for student learning. Some students think a few of the chairs look like Amazon's Alexa because they are thin, tall and curved. There are also many high top chairs on wheels. Some individual student desks on wheels have rotating table tops. 
At least one student said she loses focus in the movement chairs.
"I think some of the chairs may be distracting and can be difficult to focus. Otherwise, they are very comfortable," fifth-grader Kaajal Thakkar stated.
Many teachers like the Learning Lab atmosphere and the flexible seating options.
"I really think the Learning Lab is a lot of fun and gives students a choice to find seating that helps them the best," Chloe Salzman, third-grade teacher, said.
"I think also having a big space helps students find their own corner. That is something the media center didn't really have," Keren Park, third-grade teacher, said.
Also featured on this side of the Learning Lab are couches that look like staircases, wall projector, large whiteboard, and a flat screen T.V. A divider separates this side of the Learning Lab from the other. The other side is used by elementary technology teacher Dennis Gordon for his Digital Citizenship classes.
"I love the learning lab! The colors are so bright and inviting! Students love the chairs on wheels and using the giant whiteboards," Gordon said. "I think the learning lab is a great space for teachers looking for a different setting for classroom activities. Sometimes students get a little to excited with the wobbly and spinning chairs, but I love the Learning Lab."
This classroom side has six tables on wheels and chairs on wheels. At each table are whiteboards and Expo markers. Also, a handful of  high-top chairs on wheels face a wall of tall windows that overlook the courtyard.  There is one wall-length white board that Gordon uses to write notes and draw diagrams for his students. Another wall is painted bright green so Gordon can use it as a green screen when recording the daily morning announcements on the Villano News Network (VNN).