Halloween never looked so good
November 1, 2021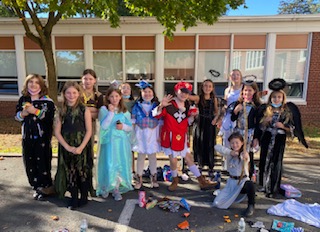 It's a favorite holiday at Patrick M. Villano School: Halloween. Many students like to dress up in costume during the day. This year, there was a variety of themes and styles in the fifth grade.
"My costume is a dark fairy," said Daniella Beam. "The reason why I chose this costume is because of it's very appealing looks."
Beam's accessories included wings and elf ears. She used black glitter hairspray to make her hair sparkle. Keeping with the dark theme was Hailey Daviou. She was a dark angel with a group of friends.
"It sounds cool, and it is Halloweenish," Daviou explained. "I was going to be a white angel, but I couldn't find a costume, so my friends and I decided to be dark angels."
Daviou wore a short sleeve dress with a black ruffled halo and black wings.
"It is a dress I can walk in, without tripping on," she said.
Rebecca Cabrera created part of her own white angle costume. She wore a halo that she made herself. The fifth-grader thinks angels are cute. 
Elizabeth Mrikc dressed as the character Deku from My Hero Academia, a Japanese superhero manga series.

"The reason why I choose this custom is because that is my favorite character from M.H.A. (My Hero Academia)," Mrikc said.
Olivia Abbate loves wolves and the moon, so she thought of a way to combine two of her favorite things. She wore a white turtleneck, white tights, and a white skirt with light blue paws and feet.
Christine Kennedy found her idea on Pinterest. She is honoring a popular beverage place – Starbucks.
"It is my favorite place to drink, and also it combines with the costume theme of my dog. He is going be a coffee," Kennedy said.