Quarantine can't stop athletes from doing what they love
May 15, 2020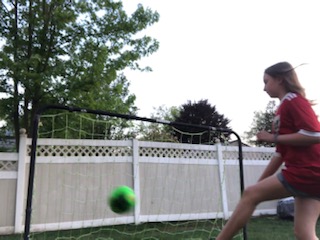 Dani Dominguez is a competitive dancer who isn't letting social distancing come between her and her routines.
"I have been working out a lot. I have online classes where we stretch and workout as well," Dominguez explained. "I have been also tumbling and practicing both inside and outside to keep my skills stable until I can get back into the studio."
Dominquez is a sixth-grader at Patrick M. Villano Elementary School who dances at Creative Edge Dance Academy. Fear of the coronavirus outbreak caused nonessential businesses in the area, including the dance studio in Emerson, NJ, to close, but that's not stopping Dominguez from polishing her moves.
"Honestly, I am mostly in my basement for most of the time, so my space is a lot smaller now, but instead of running the dance for two hours, we will run it twice and workout and stretch the rest of the time. It has not been much of a change. I think we handled it well," she said.
Dominquez, like many of her peers in school, are keeping healthy and staying active, despite social distancing rules. Physical education teacher, Franklin Tiburcio, encouraged students to exercise nad play sports despite the quarantine. Tiburcio, or "Mr. T" as students call him,  is the physical education teacher at Memorial and Villano Elementary Schools, and a baseball coach at Emerson Junior-Senior High School.
"Normally in the spring, I coach freshman baseball for the Emerson Cavos," Tiburcio said. "We play freshman teams from around Bergen County such as Rutherford, Westwood, and Glen Rock."
Mr. T recently organized a virtual Field Day for students and families in the Emerson Public School District. He assigns exercises through his school Google Classroom account every day. Yoga poses, workout routines, and healthy eating tips are available online. Mr. T. exercises for both body and mind.
"I am currently working on the mental part of the sport more than the physical part," Tiburcio said. "I do keep myself active by throwing the ball around in my backyard and taking small runs around my town. I also do Zoom meetings and have a Google Classroom with my fellow coaches and players."
Some elementary students are practicing skills for the spring sports season canceled early due to the coronavirus. Those skills include soccer, softball, baseball, track, and lacrosse. Sixth-grader, Renae Canino, is missing her softball season. Renae Canino is a sixth-grade softball player. Being without her team doesn't stop her from practicing.
"I've been in my backyard, practicing with my dad. When we are outside, we practice batting and throwing," Canino said. "I normally work out after dinner. I feel that it is easier to work out after dinner because then I don't have any work after. It also just fits into my schedule that way."
Canino, like some peers in her elementary school, walks daily  with her mom. She said she enjoys looking around at the neighborhood, spending time with her mom, and staying fit all at the same time. If the weather is not cooperating, Canino finds another way to be active.
 "I will probably just go work out in the room with my dad," Canino added.
Keeping healthy and staying active doesn't need to involve a gym, field, or studio.
"I have recently been going on walks and riding bikes with my brother," Domingez said.