Comfy in quarantine
April 4, 2020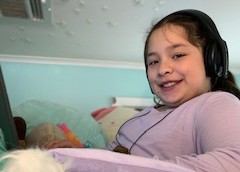 Completing schoolwork from home is routine now for students in the Emerson Public School district.
"It's comfy. It's warm. It's virtual learning!" Savannah Dennehy said.
The fifth-grade student at Patrick M. Villano School completes tasks on her school-issue laptop surrounded by pillows. Teachers post asignments in Math, Language Arts, Science and/or Social Students each day at 8:30 a.m. Dennehy and her peers have until 9 p.m. to turn in those assignments to the Google Classroom.
Dennehy has been working from home since March 16 when the district moved to online learning due to the coronavirus.