Fishing club lures in students
May 10, 2019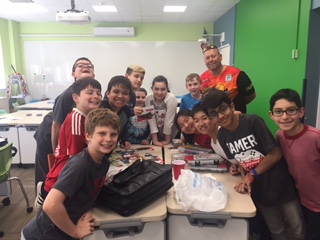 Debra Cinello
Student clubs at Patrick M. Villano Dcho are off to a great start, especially the Fishing 101. Memorial kindergarten teacher Kris Lechman advises the club which introduces students to the sport of fishing. Lechman loves to fish, and he is passing on his knowledge to a group of interested students after school on Wednesdays. He taught the students how to cast, and he showed them different types of baits such as worms and jigs.
"I want to learn how to fish, and my dad wants to learn, too, so I can teach him," fourth-grader Sal Calafiore. "What stood out to me was that when we learned the baits and casting. Casting is how you throw the line into the water."
Fifth-grader Ivan Jacob also joined the club.
"I joined Fishing 101 because fishing seems like a fun sport when you put bait on a hook and catch fish," Jacob said.
The club went to Wood Dale Park Pond in Woodcliff Lake to fish. The group caught sunnies, blue gills and bass.