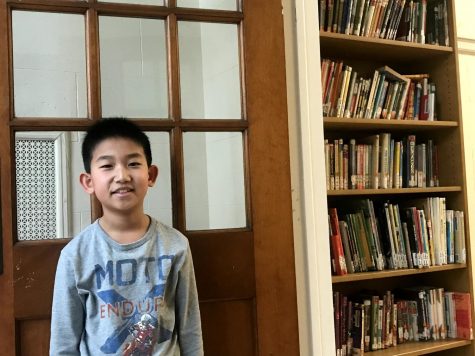 David Kim is a fourth grader at Patrick M. Villano Elementary School. This year, David is working as a photographer the
The Villano View.
This is David's second year in
The Villano View,
and he has decided to become a photographer, but last year he was a reporter. When David is older he wants to be a
Major League baseball
player. David has also achieved 6 awards and trophies. David plays the sport of baseball, enjoys hanging out with his friends, and playing video games, like Minecraft.
David Kim, Photographer
Jun 12, 2020

Summertime in Emerson

(Story)

May 12, 2020

Springtime in Emerson

(Story/Media)

Mar 02, 2020

Two Schools, One Theme

(Story/Media)

Feb 29, 2020

Emerson firefighters lunch with Villano students

(Story)

Feb 03, 2020

Super Bowl LIV: Who Will Win?

(Story/Media)

Jan 31, 2020

Outstanding wrestler honored by Board of Education

(Story/Media)

Jan 28, 2020

The Impeachment of Donald J. Trump

(Story)

Dec 24, 2019

Santa's visit to Emerson

(Story)

Dec 13, 2019

Students sing songs of the season

(Media)

Nov 23, 2019

Fun and family a focus in class

(Story)

Nov 22, 2019

Color is in the air

(Story)

Jun 04, 2019

Fishing for a good time

(Story/Media)

Mar 29, 2019

Building stories on Fridays

(Story/Media)

Feb 23, 2019

Chromebook use: It's a matter of trust for teachers

(Media)

Mar 08, 2019

Fortnite season 8 finally here

(Story)

Jan 18, 2019

Flurries fall overnight

(Story/Media)

Jan 06, 2019

Where's the snow?

(Story)

Dec 19, 2018

Students enjoy marching in annual Halloween Parade

(Story)

Oct 26, 2018

No Tech Thursdays begins

(Story/Media)

Oct 24, 2018

Highlights from Homecoming

(Story/Media)

May 15, 2018

Field Day fun postponed

(Story)