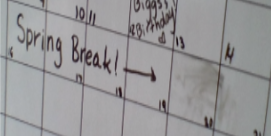 Alyssa Gabrielle
A majority of students and teachers at Patrick M. Villano School is looking forward to spring break that starts on Monday, April 16. The last day of school for students is, however, on one of the most dreaded days of the year – Friday, April 13. The break lasts for 10 days and ends on Sunday, April 22. Students and staff in some other area school districts took their spring break earlier this month. The break is traditionally a time for families to spend quality time together.
"I love spending spring break with my son," fourth-grade teacher Kim DellaVolpe said.
Ameila Teigen, a student in fifth grade, plans to visit family in North Carolina over the break. Kaajal Thakkar, another fifth grade student, is visiting her family in Illinois. Thakkar is also spending some time at Universal Studios in Orlando, Florida. Andre Baruch, the elementary band teacher, is looking forward to the warmer temperatures.
 "I mostly like the weather. Usually it is nice weather and very sunny," Baruch said.
Some may travel to far off places, and others may stay at home, but either way it's fun.
"I like having time to relax and to recharge before school starts again," fifth-grade teacher Kim Biggs said.